Wilsons Make Winning Choice
by Carolyn Davis Beal
Back in 1970 Marques Wilson and Sylvia Lewis had no idea that their choice of taking a civics class would be the beginning of a life-time relationship. Once again we are featuring a couple that met while attending
Lincoln High School. This couple dated, fell in love, married, and is
still honoring their marriage vows.
As previouslsy stated, Marques and Sylvia met in civics class in September of 1970.
Sylvia was reading a Health Occupations pamphlet when Marques
noticed her. Deep into their subsequent conversation, they discovered that both worked at Presbyterian
Hospital. After engaging in further conversations and hanging out,
they also realized that they lived four blocks from each other. Thus they launched a special friendship. They would often go bowling or to the movies after work, and realized
that they had many similar interests and similar goals.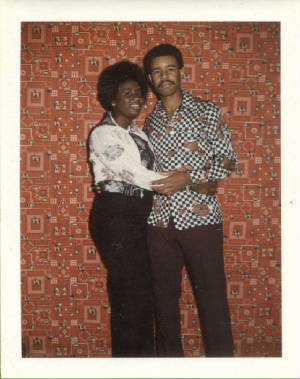 1972 --- On A Date at Al Green Concert
While dating they
often drove around the Highland Park area and dreamed of someday
owning a home like many of the ones they saw in that area. After
graduation, Marques attended Dallas Baptist University for a couple of years. Running out of money, he joined the Air Force. Sylvia attended Texas Women's University. They dated about 4 years before Marques "nonchalantly" asked Sylvia to become his wife. She accepted without hesitation.
They were married September 2, 1975.
A son, Marques Brian, 28 and
a daughter Marqueshia Theresa, 26, complete this family. Both of the Wilson children are college graduates.
A graduate of Texas Tech University, Marques Brian presently serves as band director at Denton High School.
Marqueshia graduated from Boston University with a degree in English. She is now in the Master's program at Arizona State University where she also
teaches freshman English.
Daughter A Literary Scholar
Sylvia is a member of Macedonia Baptist Church in Lewisville, and Marques
attends occasionally. Sylvia is employed at University Behaviorial Hospital as
a nurse manager in Denton, Tx. Marques works at Raytheon Company (Dallas) in the area of information technology.
Sylvia and Marques enjoy travel, being around family, movies, computers and reading.
They contribute their marital success to:
Tolerating each other's strong and weak points.

Being friends throughout the relationship.

Respecting and accepting each other for who they are and not trying to change them.

The most important is: Having love and admiration for each other.
Congratulations to this wonderful couple who's living

their dream…….